From "Bye! Bye! Bye!" to justifiedJustin Timberlake wrote the blueprint for the boy band breakout star. The singer began his musical career in the late 90s as one-fifth of pop group *NSYNC. By the turn of the millennium, the group had risen to the top of the Pop2K charts, outselling even the Backstreet Boys with their record-breaking album No Strings Attached. *NSYNC was the boy band and Justin, its unofficial frontman. While the band burned bright, however, two years later they were put on ice, and Justin emerged as its breakout star with 2002's massively successful justified.
Justin epitomized the Y2K boy band look: a flashy, larger-than-life take on men's fashion that drew equally from Euro-trash, streetwear, and kitschy Americana. Think Canadian tuxedos, bedazzled bandanas, gradient aviators, denim fedoras, and metallic boilersuits. Here, we take a look back at some of the singer's most iconic outfits from the 90s and early 00s.
In the 'I Want You Back' music video, 1998
did you know that NSYNC debuted in Germany? After forming in the States, the group signed with a Munich-based record label and recorded the entirety of their debut album in Sweden with producers Max Martin and Andreas Carlsson. The group released NSYNC in Germany in 1997, becoming an overnight success across Europe, though the album wouldn't make it stateside for another year. *NSYNC's European origins begin to make sense when you dig back into their early-career attire. Take the music video for "I Want You Back", for example, where the boys are giving their best Tour de France in a series of coordinated Spandex half-zips.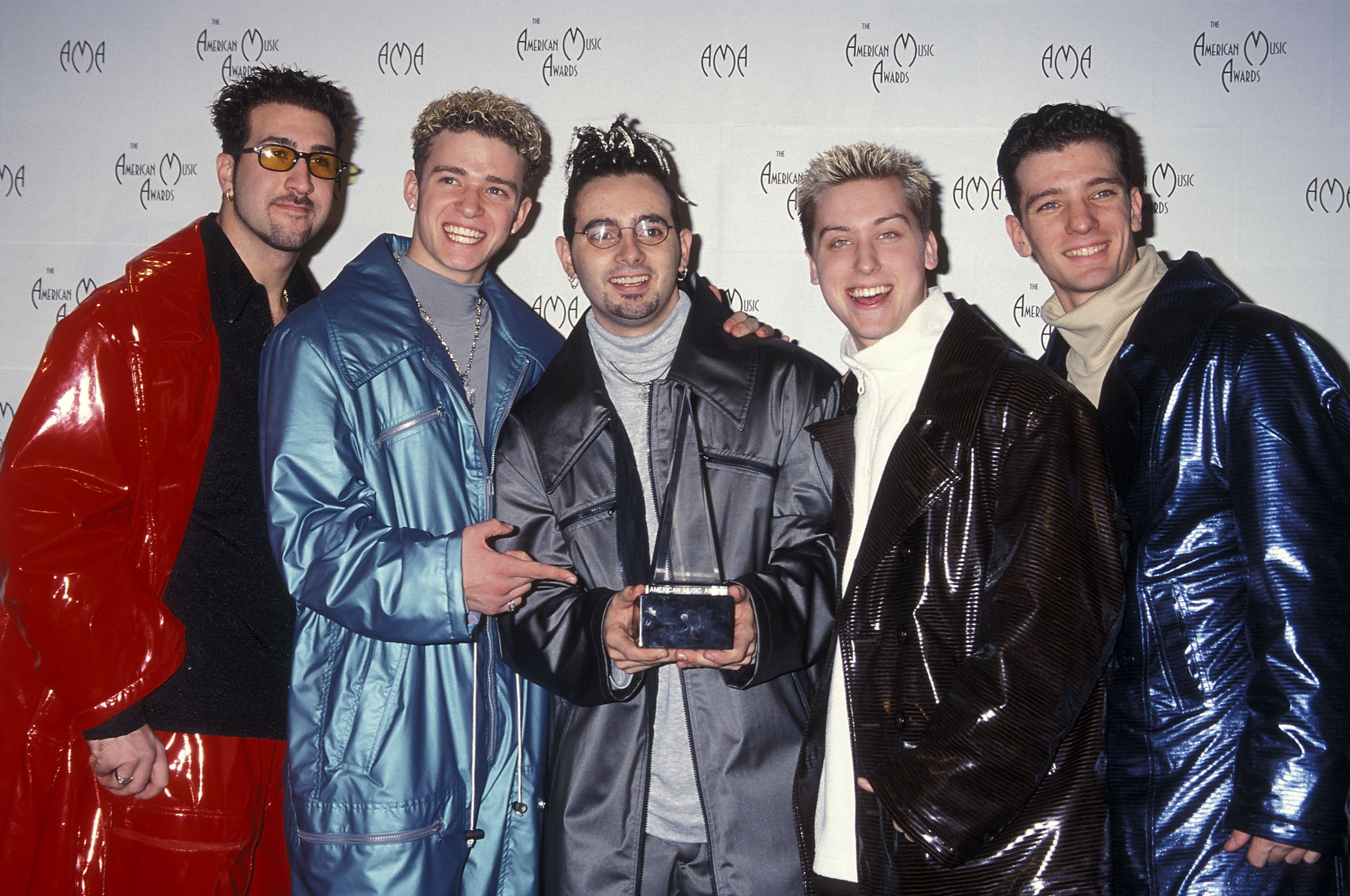 Photo by Ron Galella, Ltd./Ron Galella Collection via Getty Images.
At the American Music Awards, 1999
Momentous events call for even more momentous outerwear. Justin and his *NSYNC bandmates arrived at the 1999 AMAs to snag the award for Favorite New Pop Artist in a series of ostentatious jackets. Joey wore red pleather, Lance, laminated corduroy, and Justin, a metallic blue boilersuit.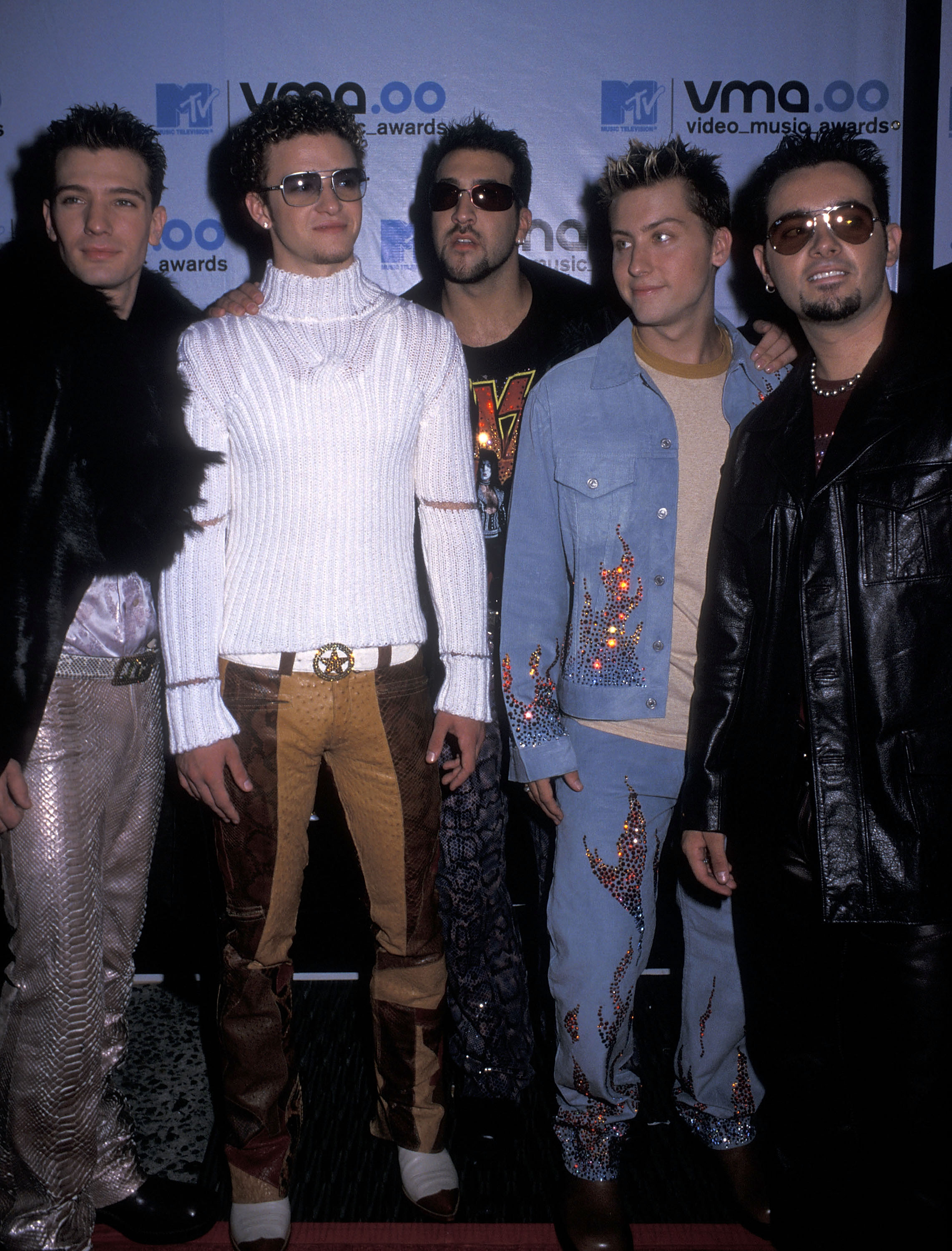 Photo by Ron Galella/Ron Galella Collection via Getty Images.
At the VMAs, 2000
Of course, *NSYNC saved their most audacious outfits for the VMAs. In 2000, the group pulled up to the award show's infamous red carpet wearing a motley ensemble of bedazzled, bespectacled looks. Special mentions go to JC's metallic snakeskin pants and Lance's Guy Fieri cosplay, however, Justin really steals the spotlight in a pair of patchworked ostrich leather trousers, cowboy boots, and a sheer white turtleneck.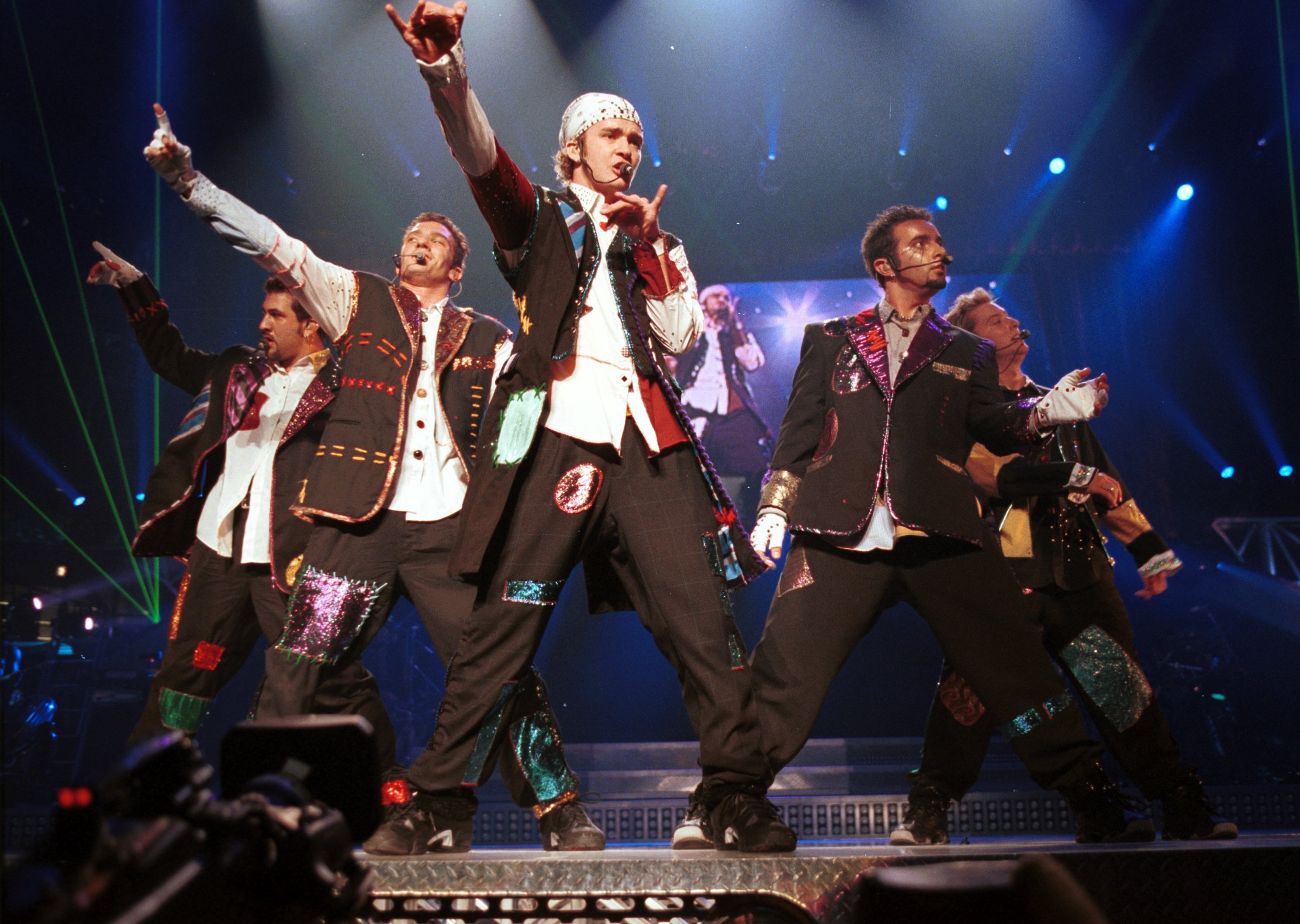 Photo by KMazur/WireImage.
Performing at Madison Square Garden, 2000
*NSYNC's MSG concert was the hottest ticket of summer 2000. The concert was held mere months after the group dropped the record-breaking, best-selling No Strings Attached. "Bye! Bye! Bye!" was all over the airwaves and *NSYNC was, effectively, the biggest boy band in the country. Here, the group performs in a series of matching stage costumes, which draw from the outsized and colorful fashions of New Jack Swing and Michael Jackson (note the gloves.) Justin stands out from the rest in a bedazzled bandana, which speaks to the glitz -y Americana of Y2K's McBling look.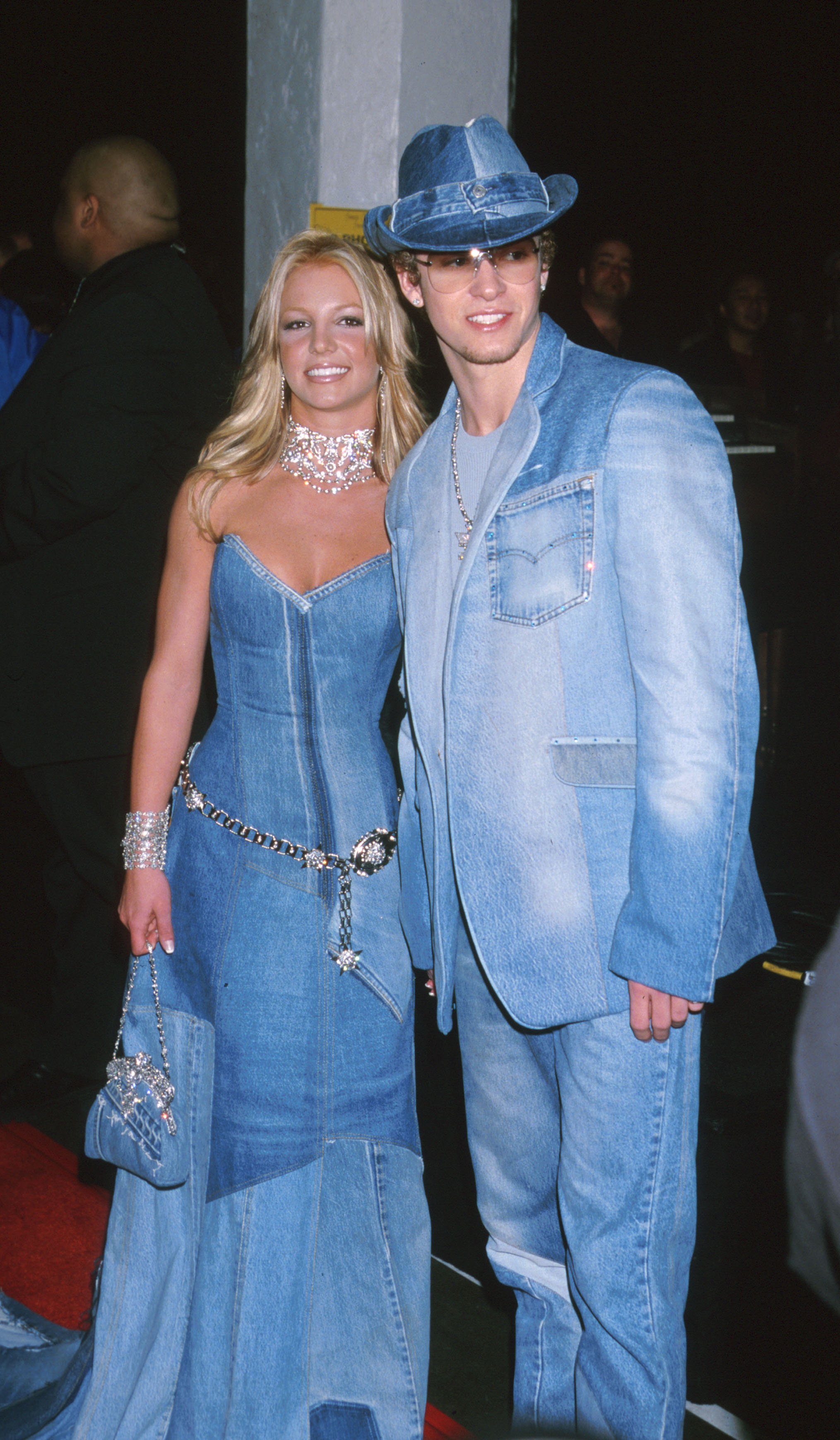 Photo by Jeffrey Mayer/WireImage.
At the American Music Awards, 2001
Behold, the most iconic couples outfit of all time. In 2001, all-American pop star Britney Spears and her then-boyfriend Justin made all-American workwear glam in a pair of formal denim looks. While Britney covered her deconstructed denim gown in diamanté accessories, Justin gave new meaning to the phrase "Canadian tuxedo" in a jean suit.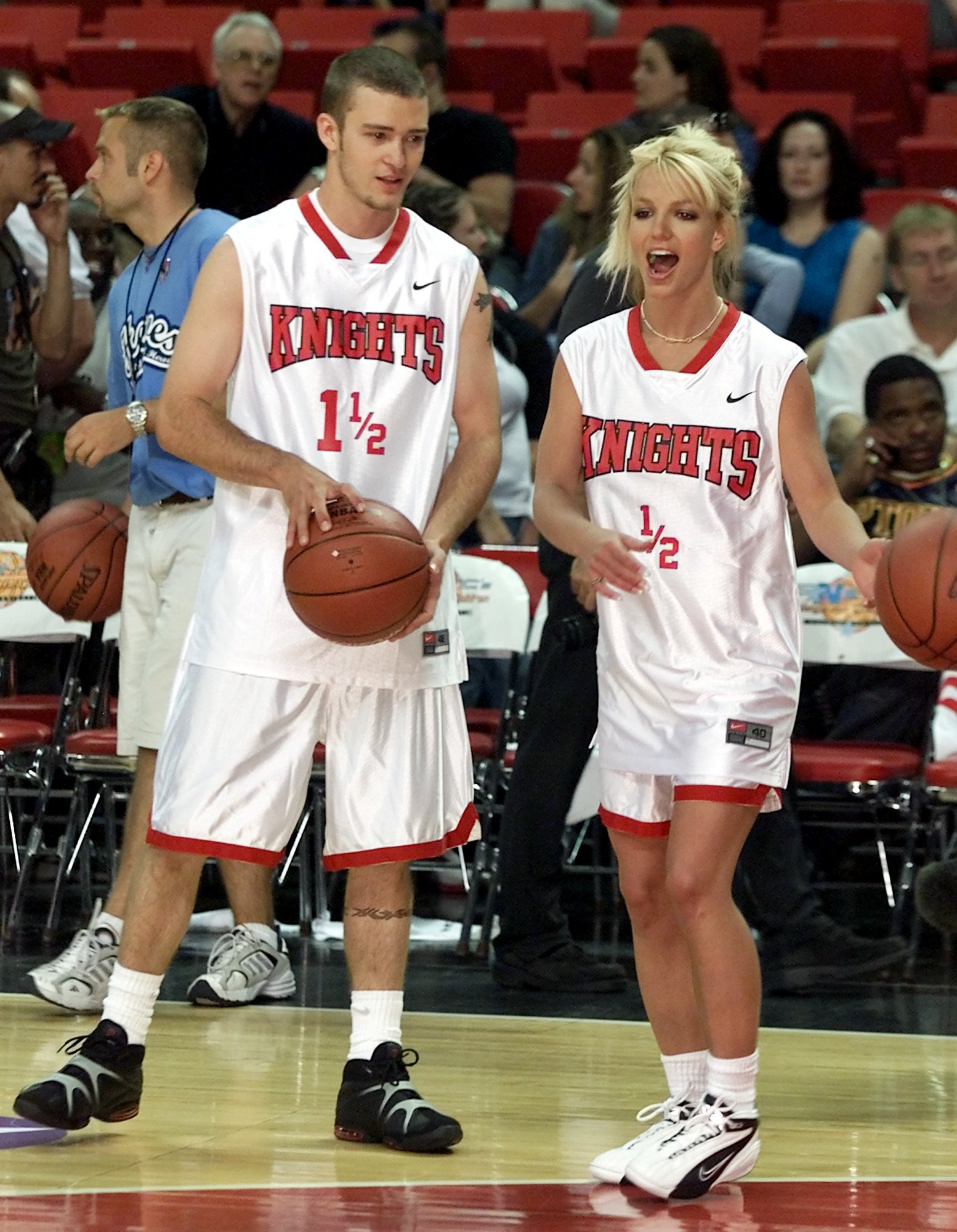 Photo by Ethan Miller/Getty Images.
At a celebrity basketball game, 2001
The AMAs weren't the last time Britney and Justin stepped out in twinning looks. Later that year, the teen pop duo attended *NSYNC's charity basketball game in a set of matching jerseys. Justin's reading "Stinky" and Britney's, "Pinky."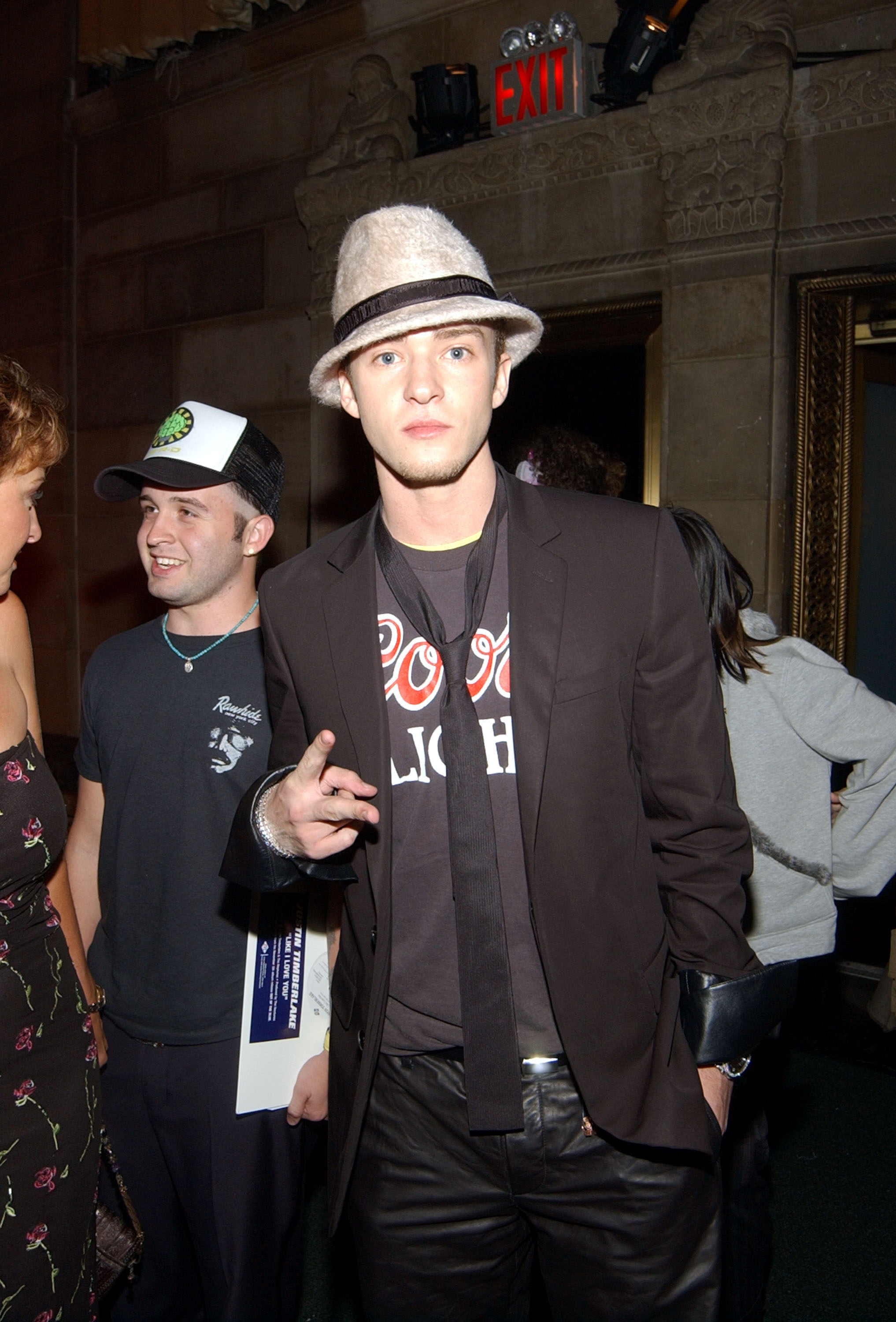 Photo by Dimitrios Kambouris/WireImage.
At the post-VMAs party, 2002
Here, Justin gives us a more subdued (though no less sleazy!) take on the McBling fashions of early Y2K. You won't see a Von Dutch cap or bedazzled denim in Justin's 2002 post-VMAs get-up. You will, however, peep a fuzzy fedora and a Coors Light tee worn with a "suit & tie."
Follow iD on Instagram and TikTok for more on fashion.
.